This October 2022, the CMC en Service project ended after four years of research and development around a test bench (the flame bench) allowing advances in composite materials with ceramic matrix testing.
---
THE PROJECT
The mission of the CMC en Service project is to develop an analysis bench to make thermo-mechanical measurements on representative parts of future Safran engines. The bench allows the testing of internal engine parts (hot parts). The challenge is to increase temperatures to improve engine performance, with the ultimate goal of decarbonizing aviation and reducing energy consumption by 50%.
About
With a budget of 1.7 million euros over 48 months of research and thanks to the joint efforts of the IRT Saint Exupéry and Safran Ceramics, along with suppliers Akira, I2M, and Epsilon, the project CMC en service has now reached its objectives.
The instrumented flame test bench is capable of testing parts in conditions that reproduce a representative engine environment, up to 1,600 degrees Celsius, with mechanical loads of up to 25,000 N (Newtons), with the possibility of cycling.
The project team developed this test bench in conjunction with Safran Ceramics, which supplies the parts to be tested, seconds personnel to assist with the tests, and then handles the data and samples analysis.
Objectives
Facilitate the understanding of the damage of CMC materials (Ceramic Matrix Composite) in a closed environment to the final application.
Set up a means of characterization to apply thermomechanical stresses on parts in an engine environment over long periods.
Analyze damage facies and associated design rules.
Make the test bench available as a service to other manufacturers such as Airbus for example.
The test bench
Thermomechanical stresses possibilities are almost unique in Europe for such a test tool, which is also one of the few not to be exclusively reserved for industrialists who own it.
It allows working with "dumbbell test pieces" of a representative size that allows qualifying the material and the stresses.
It can also accommodate 1/1 scale parts and allows stress tests to bean carried out under thermal stresses, enabling thermal images to be obtained.
Tests on ring sectors (sections of a large part) are also frequent cases of use.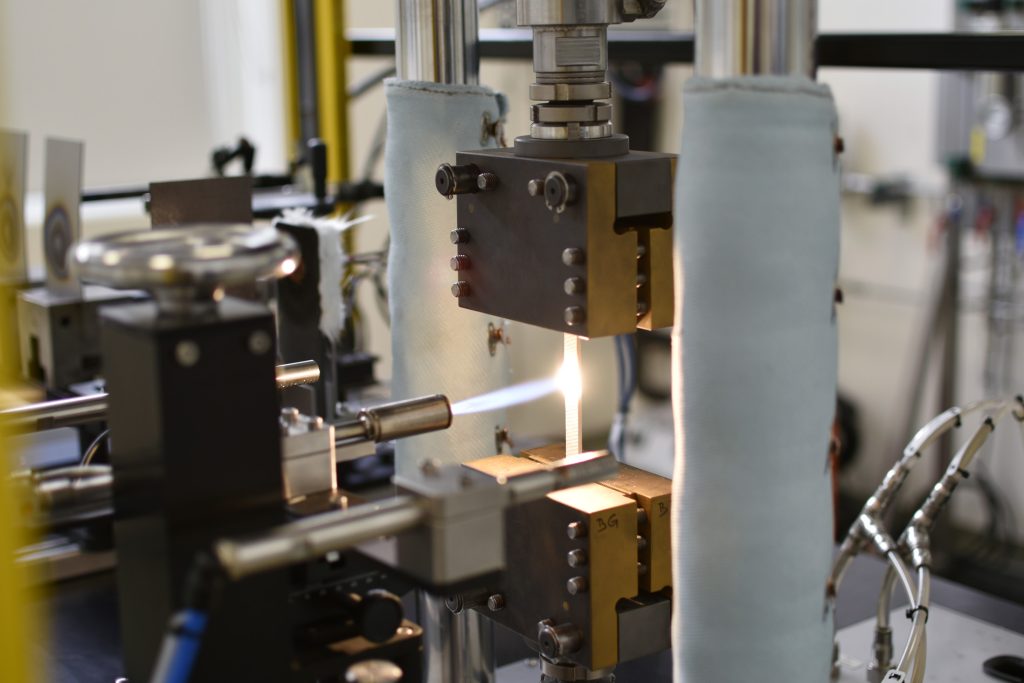 Characteristics
Two burners. One straight and one cylindrical can be fed with methane, oxygen, and nitrogen. This new bench allows changing the composition of the flame to vary its temperature and to make thermal cycling; a welcome flexibility compared to similar existing tools.
Cooling. Provided by an airflow on the backside, on the inside, or on the front side.
Mechanical stress. Exerted on parts held between two jaws and on which compression or traction is applied, with the possibility of imposing a frequency of 5Hz.
Characterization and qualification under combined cyclic stresses: thermal and thermomechanical for two similar samples simultaneously. This is what makes this tool so unique and attractive, and allows both time savings and the application of unique constraints to the tested parts.
Load
Instrumentation
Thermique : 900 – 1600°C
Mechanical up to 25000N ; >5Hz
Thermique : CIR ; Pyromètres ; TC-S
Mécanique : effort ; déplacement
The CMC en Service team was able to unlock technological hurdles, such as setting up within the IRT Saint Exupéry small-scale but representative means (for example, in terms of temperature and flow gradients) capable of operating over long periods.
With only four years, research and development on this project have been fast.
The new test bench offers new characteristics, test capabilities, and ranges of thermomechanical stresses expected by the industry.
The originality of the project in use is to provide a mechanical stress capacity in addition to the thermal stresses, but also the submission of parts to a controlled thermal gradient.
The test bench requires very few human resources to operate, a single technician can operate it and its automation capability allows it to perform tests for days with reduced preparation time.
Safran Ceramics, a partner in the project, will have access to the data collected throughout the development of this new tool.
End of the "CMC en service" project around the development of a test bench for ceramic matrix composite materials.